Leading Manufacturer, Exporter, Wholesaler & Retailer of Induction Motor, AC Induction Motor, Induction Motor, Induction Motor Price, Induction Motor, Induction Motor in Ahmedabad
Motor type: AC three-phase squirrel cage induction motor
Enclosure: TEFC
Frame: 63 to 200L
Mounting: Foot, Flange and Face
Rated power: 0.18 kW to 22 kW (0.25 to 30 HP)
Voltage ± variation: 415 V ± 10%
Frequency ± variation: 50 Hz ± 5%
Combined variation: 10% (Absolute sum)
Rated speed: 3000, 1500, 1000, 750 rpm
Ambient temperature: +50°C
Relative humidity: Up to 100%
Connection: Up to 2.2 kW-Star connection with 3 leads & above 2.2 kW-Delta connection with 6 leads
Direction of rotation: Anticlockwise or clockwise as seen from the Driver end side
Duty / Rating: S1 / Continuous
Insulation class: Class 'F' and temperature rise limited to class 'B'
Degree of protection: IP 55
Cooling method: IC411 / Shaft mounted fan.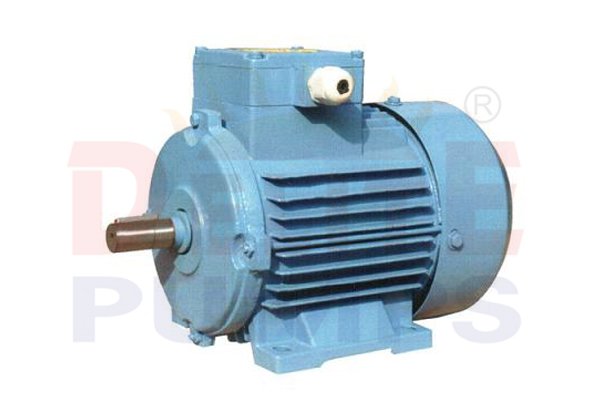 Pumps
Compressors
Fans and blowers
Flour mills, rolling mills, mixers
Machine tools
Textile and plastic machineries
Printing, packaging and wood working machineries
Agricultural, food processing machinery
Material handling equipments
Cranes, hoists and lifts
Cooling towers.
Motors are fitted with dynamically balanced aluminium die cast squirrel cage rotors.
Motors are fitted with pre-lubricated antifriction ball bearings up to 132 frame.
Motors are free from moisture and dust particles.
Minimum electricity consumption because of special grade electrical steel used in an energy efficient optimized design.
Balanced three-dimensional heat transfer principal due to special fins design of stator body.
Minimum rotor losses due to use of electrolytic grade of aluminium.
Minimum copper losses due to use of electrolytic grade of copper.
Minimum friction losses.
Low noise, smooth running motor.
Reliable operation.
Easy maintenance.
Low payback period.
Induction Motor Manufacturer
Established amid one of the distinguished business organizations, we are highly involved in providing Induction Motor. The offered motor or asynchronous motor is an AC Induction Motor Manufacturer in which the electric current in the rotor needed to produce torque is obtained by electromagnetic induction from the magnetic field of the stator winding. Offered Induction motor can be operated without electrical connections to the rotor.